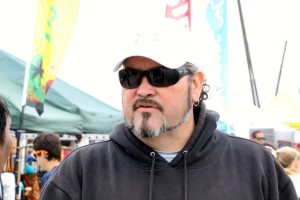 My name is Shane Hawkins and I was born in Los Angeles, CA, USA – the year 1966. My family lived in the LA area until 1973 when we moved to a small town in northern California called Petaluma. I had a great childhood here and I am very thankful to have been raised in a wonderful small town atmosphere where a person can get to know people who will be friends for life.
I took all the usual courses through Junior High and High School, but one of the more interesting classes I took was Metal Shop. It was here where I first learned the basics of welding and metal working.
After graduating from high school, I held a number of different jobs ranging from landscaping, concrete finishing to gas station attendant and mechanic, but nothing seemed to strike me as a career choice.Shane Hawkins small trophy
My long-time desire growing up was to be a motorcycle race mechanic, so I applied to Motorcycle Mechanics Institute in Phoenix, AZ, USA to further my technical education in the workings of all types of motorcycles. Living and going to school away from home is pretty expensive, so of course I needed a job. I was fortunate to find a welding job at a family-owned shop and the metal working experience continued.
After graduating from the motorcycle tech school, I continued working for the metal shop for a number of years while still seeking a suitable opening to use my motorcycle mechanic skills. Most of the motorcycle shops in and around Phoenix had few openings, however, and the starting pay for a new mechanic was too little to make a living. Needless to say, after 10 years living in Phoenix, I never really got used to the heat, so I moved back home to California.
Shane Hawkins large trophyHome again, I found a job working for a metal artist, custom fabricating stainless steel and bronze sculpture. I found that I had a talent for using my welding to create art in many fashions. I have helped to create and install some of the most beautiful and fascinating metal sculptures imaginable for clients across the United States and Hawaii.
A few years after coming back to Petaluma, my best friend and I took up a great sport as a hobby. We began participating with a Hawaiian outrigger canoe paddling club. It was through my involvement in this sport that the Hawaiian culture and the Spirit of Aloha hit me like a brick, as they say. It seemed to strike a chord on a creative level and I started to put my design and metal fabricating talents to work by creating works of art with the beautiful Hawaiian influence.Shane Hakins welding
At the urging of family, friends and associates, I began to create more and different pieces of art and small pieces of jewelry, all with the touch of the Islands. I continue to craft custom pieces on request and love to stretch my abilities in designing beautiful metal artwork for family and friends. Much of my work has been on display throughout the Bay Area at various Hawaiian Aloha festivals and I look forward to increasing my opportunities in this aspect of my craft in the years to come.
Mahalo,
Shane
phatfab@gmail.com