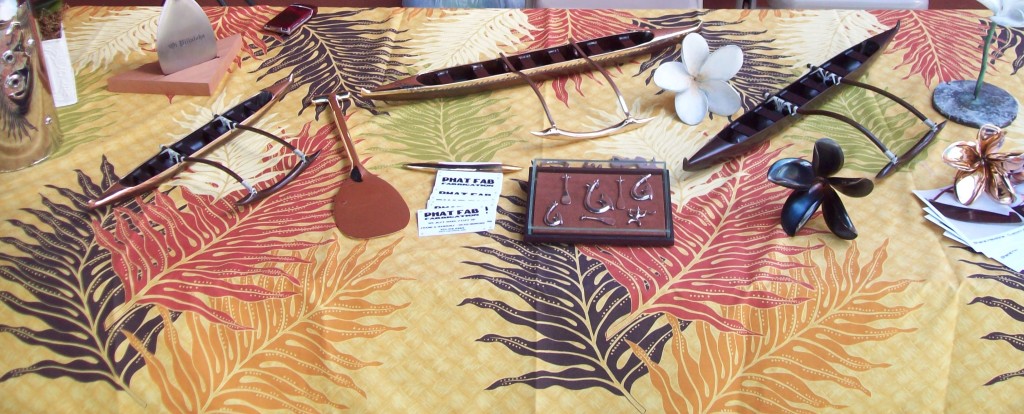 My artwork is strongly inspired by the Hawaiian culture. Not only that, but the love of working with and shaping the metal into something meaningful that people like and appreciate is very satisfying for me. By using metals to fashion my artwork I know it will last for ages.
THE PLUMERIA BLOSSOM – FASHIONED FROM BRONZE
The original Plumeria Blossom was a gift for a special person in 2008. Over time, I have changed the shaping and fabrication of the flower. At first glance, they all look the same, but because they are handmade, each one is subtly different. Some are larger, some have different burnishing, some are specially painted – they can be made to order to suit a specific desire.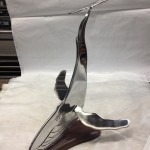 THE WHALE – STAINLESS STEEL ON A WOODEN BASE
The Whale was crafted for the father of a very good friend. The father is a collector of all kinds of whales, artistic pieces made from different media. Dad's birthday was coming up and I was asked to see what I could make in S.S. (stainless steel) for a table piece. Working from different pictures of the humpback whale diving, the piece seemed to grow and design itself. The Whale ended up standing approximately 29" tall x 10" wide x 1/2" thick with a 9" tail fluke. I mounted it on a piece of very hard Brazilian wood that was sanded and shaped and then simply oiled to bring out the grain. I felt that it came out well for a first try and the father loved it!!
PAC 12 TROPHY
Working for a metal artist and sculptor, Archie Held, I have had many great projects to work on and build. One of my favorite assignments was the PAC 12 Football Championship Trophy which I was fortunate to have worked on 3 years in a row. Working for Archie is where I learned the fine points of working with bronze.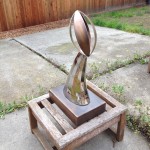 BRONZE & STAINLESS TROPHY
This trophy was inspired by the great 14-0 2012 season of the North Bay Rattlers, a Northern California minor league football team I play for. Yes, I play! This sport has been a passion of mine forever. I am happy to give back to something I love.
The first Outrigger Canoe I made was a gift to the founders of Lokahi Outrigger Canoe Club of Petaluma, CA. It measured 32" long and was completely handmade, by my own design, of bronze sheet and solid stock. Upon completion, it was rigged in the traditional style just like the full size Wa'a. That canoe is the biggest one to date. Other canoes I have made measure 24" and 16" long.