I had seen hooks and other island jewelry made of carved wood or bone, even cast silver and gold. I wanted to see if I could shape one out of stainless steel, since that is one of my favorite mediums.
Once I designed and finished the first one, I wore it to paddle events and festivals. People were impressed and asked me for one of their own.
My first pieces of Jewelry, or wearable art, were small stainless steel paddles and fishhooks. Now, I will give a try to any customer's request.

FISHHOOK – MAKAU (HAWAIIAN)
The Fishhook signifies strength and prosperity. Traditionally, it was used as a tool in gathering food in the Hawaiian Islands. It is said to offer good luck to those traveling at sea and represents being a good provider. The Fishhook offers many variations in design to personalize it for a gift.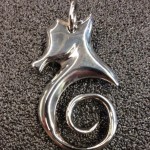 THE SEAHORSE
The Seahorse is a one-off custom piece requested by a paddle club member that wanted a new symbol of strength and safety for a new chapter in their life. They wanted the piece to be a water symbol, and the Seahorse seemed to represent everything they asked for.
THE PADDLER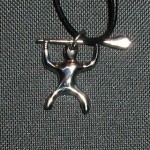 The Paddler was an idea I had taken from Hawaiian legend. The Menehune are said to be small, dwarf-like people usually around 2 feet tall, but some as tiny as 6 inches. Living in the forests and valleys of the island, they were a mischievous group who loved singing and dancing.
According to local lore, the Menehune were smart, extremely strong and excellent craftsmen. They are rarely seen by human eyes and mostly moved about only in the night.
THE WARRIOR
The Warrior is also of the same idea. Represented in the Menehune figure, both the Paddler and the Warrior symbolize strength and unity. The Paddler is signified by raising an Outrigger Paddle overhead. The Warrior is depicted raising a Spear overhead.